Essential part for wireless network/wireless monitoring system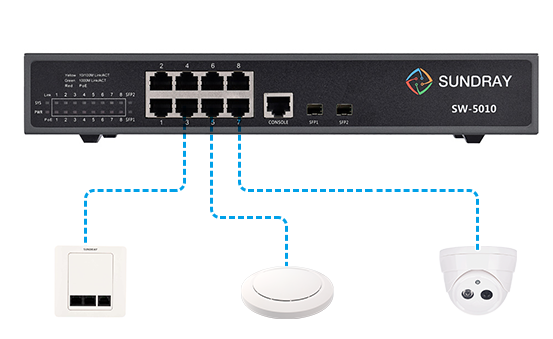 Adaptive Powered Devices
Smart Power Supply
Sundray POE Switch supports IEEE 802.3af、802.3at standard,supports 802.3af/at automatically,and supprots Intelligent detection, to meet the power equipment standards, no need to worry about power supply does not match the standard which will occur damage on power equipments.
Note:Sundray SI3200-08T-PWR-UN/SI3200-24H-PWR/SW5010 all supports smart POE power supplying.
Excellent Lighting arresting
More secure More reliable
For indoor networking applications,Wireless AP or Camera usually install at higher positions,increasing the risk of lighting attack and network failure。Sundray Switch use professional lighting arresting port,offering stable and reliable service on Wireless AP and Camera in Thunderstorms, to make sure best network using.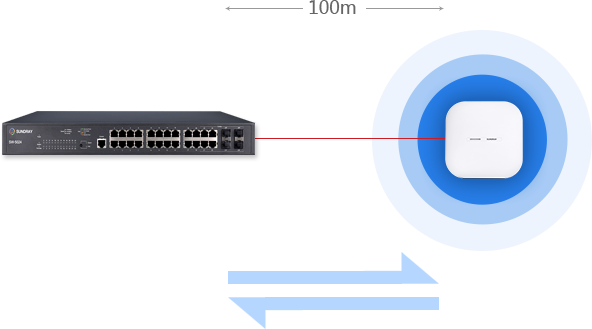 Long distance power supplying
Easily solve long-distance power supplying problems
Sundray POE Switch supports 100 meters stable power supplying (Actual distance supports depends on actual cable materials), and support poe switch multi-level connection,flexible power supplying distance,avoid the confusion of long distance power supplying problem。
Full Metal Shell
Super cooling performance
Sundray POE Switch using full metal shell,integrated Vents on both side of POE Switch,integrated cooling fans,super cooling feature can make sure stable perfomance of devices.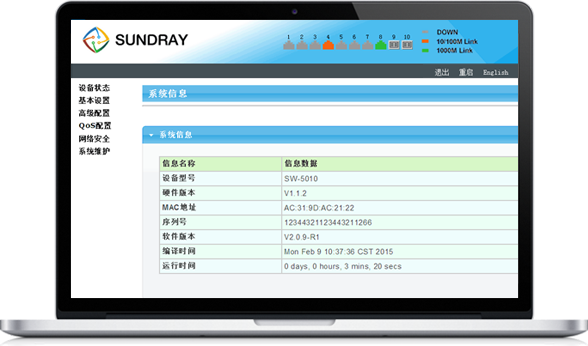 Visual Management Platform
Make Switch Management more easier
Sundray Switch integrated visual management platform, supports configuration on background system.
Note:Sundray SI3200-08T-PWR-UN/SI3200-24H-PWR/SW5010 all integrated visual management platform
Multi-Model Products
Satisfy different scenario requirements
Currently Sundray already had 100M, 1000M series Switch, including 8-ports,10-ports and 24-ports different model Switches, build the network based on different scenario requirements.
​